Superbook Broadcasts
There are no Superbook broadcasts currently scheduled.
Join the Superbook DVD Club to get the latest episode delivered right to your home. You will receive 3 DVDs—one for the kids you love, and two to share with family and friends. DVD Club members also have online access to all of the episodes from Season 1. Bring Superbook home today!
Don't miss future broadcasts of Superbook
About Superbook
Fun for Kids
Para Niños
What is Superbook?
Superbook teaches children in every language and culture timeless moral truths and life lessons through the captivating, Bible-based adventures of two time-traveling children and their robot friend. The familiar and the futuristic interact with ancient people, places and events to create a sense of wonder, anticipation, empowerment, and personal breakthrough as the children witness God's interaction with man. Superbook is always an exciting journey, full of discovery–with a transformational outcome.
Download the Free Superbook Devotional
Discover a fun and interactive way to learn about God and a new journey with Him!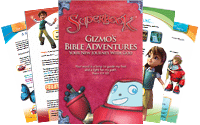 Una manera divertida para aprender de Dios tambien esta disponible en español.
Bringing the Bible to the Children of the World