Watch Superbook with your family this Easter on your local stations!
It's your chance to watch Superbook this Easter weekend! Watch Friday, April 18 on ABC Family, 9:30 a.m. ET/PT, and check the TV listing below for episodes airing on Saturday and Easter Sunday, April 19 and 20. Watch Easter Bible stories come to life and share the true meaning of this holiday with your family.
Tell your family, friends and church about this exciting opportunity to watch Superbook!
WATCH THE TRAILERS!
FRIDAY, APRIL 18
Airing on

ABC FAMILY 9:30 a.m. ET/PT
The Last Supper
SATURDAY, APRIL 19 & SUNDAY, APRIL 20
Airing on

LOCAL STATIONS

(See schedule below)
He Is Risen!
CITIES
STATION
DATE
TIME
Amarillo
KAMR
19-Apr
20-Apr
5p
5p
Atlanta
WATL
19-APR
6-7p
Baltimore
WBFF
19-APR
5-6p
Buffalo
WUTV
19-Apr
20-Apr
7:30p
5p
Charlotte
WCCB
19-APR
20-APR
6:30p
6:30p
Cincinnati
EKRC
19-APR
19-APR
5p
6:30p
Dallas
KDFI
19-APR
20-APR
6p
6p
Dayton
WRGT
19-Apr
20-Apr
6p
6p
Hagerstown / DC
WHAG
20-Apr
11:00-12n
Harrisburg
WHP
19-Apr
20-Apr
7:30p
12n
Johnstown Altoona
WTAJ
19-Apr
20-Apr
7p
1p
Los Angeles
KCOP
19-APR
20-APR
7p
7p
Memphis
WATN
19-Apr
20-Apr
6:30p
1p
Midland
KMID
19-Apr
20-Apr
5p
5:30p
Nashville
WZTV
19-APR
6-7p
New York City
WWOR
19-APR
20-APR
7p
7p
Paducah
KBSI
19-Apr
20-Apr
5p
6:30p
Phoenix
KUTP
19-APR
20-APR
6p
6p
Portland
KPTV
20-Apr
3-4p
Raleigh
WRAZ
19-APR
7-8p
Richmond
WRIC
19-Apr
7-8p
San Angelo
KLST
19-Apr
20-Apr
5p
5p
Seattle
KONG
19-APR
7-8p
Tampa
WTTA
19-APR
20-APR
8:30p
8:30p
Wichita Falls
KFDX
19-Apr
5p
6:30p
Don't miss future broadcasts of Superbook
About Superbook
Fun for Kids
Para Niños
What is Superbook?
Superbook teaches children in every language and culture timeless moral truths and life lessons through the captivating, Bible-based adventures of two time-traveling children and their robot friend. The familiar and the futuristic interact with ancient people, places and events to create a sense of wonder, anticipation, empowerment, and personal breakthrough as the children witness God's interaction with man. Superbook is always an exciting journey, full of discovery - with a transformational outcome.
Download the Free Superbook Devotional
Discover a fun and interactive way to learn about God and a new journey with Him!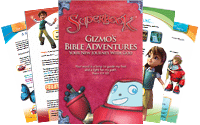 Una manera divertida para aprender de Dios tambien esta disponible en español.
Bringing the Bible to the Children of the World