"The Superbook animated series is the most successful evangelistic tool CBN has created in its more than 60 years of ministry." – Gordon Robertson, CEO Christian Broadcasting Network
Superbook is the Bible brought to life through animation to introduce children to Jesus and help develop their faith. It teaches children timeless moral truths and life lessons through the captivating, Bible-based adventures of two time-traveling children and their robot friend. This special event airs and livestreams a few of its most cherished episodes.
Download the Free Superbook Devotional
Discover a fun and interactive way to learn about God and a new journey with Him!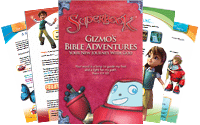 Una manera divertida para aprender de Dios tambien esta disponible en español.